Traleg Kyabgon Rinpoche IX (1955-2012) was born in Nangchen in Kham, eastern Tibet. He was recognized by His Holiness XVI Gyalwang Karmapa as the ninth Traleg tulku and enthroned at the age of two as the supreme abbot of Thrangu Monastery.
Early Life
Rinpoche was taken to Rumtek Monastery in Sikkim at the age of four where he was educated with other young tulkus in exile by His Holiness Karmapa for the next five years. Rinpoche began his studies under the auspices of His Eminence Kyabje Thuksey Rinpoche at Sangngak Choling in Darjeeling. He also studied with a number of other eminent Tibetan teachers during that time and mastered the many Tibetan teachings with the Kagyu and Nyingma traditions in particular including the Havajra Tantra, Guhyasamaja Tantra, and the third Karmapa's Zabmo Nangdon (The Profound Inner Meaning) under Khenpo Noryang (abbot of Sangngak Choling).
Rinpoche studied the Abhidharmakosha, Pramanavarttika, Bodhisattvacharyavatara, Abhidharmasamuccaya, Six Treaties of Nagarjuna, the Madhyantavibhaga, and the Mahayanuttaratantra with Khenpo Sogyal. He also studied with Khenpo Sodar and was trained in tantric ritual practices by Lama Ganga, who had been specifically sent by His Holiness Karmapa for that purpose.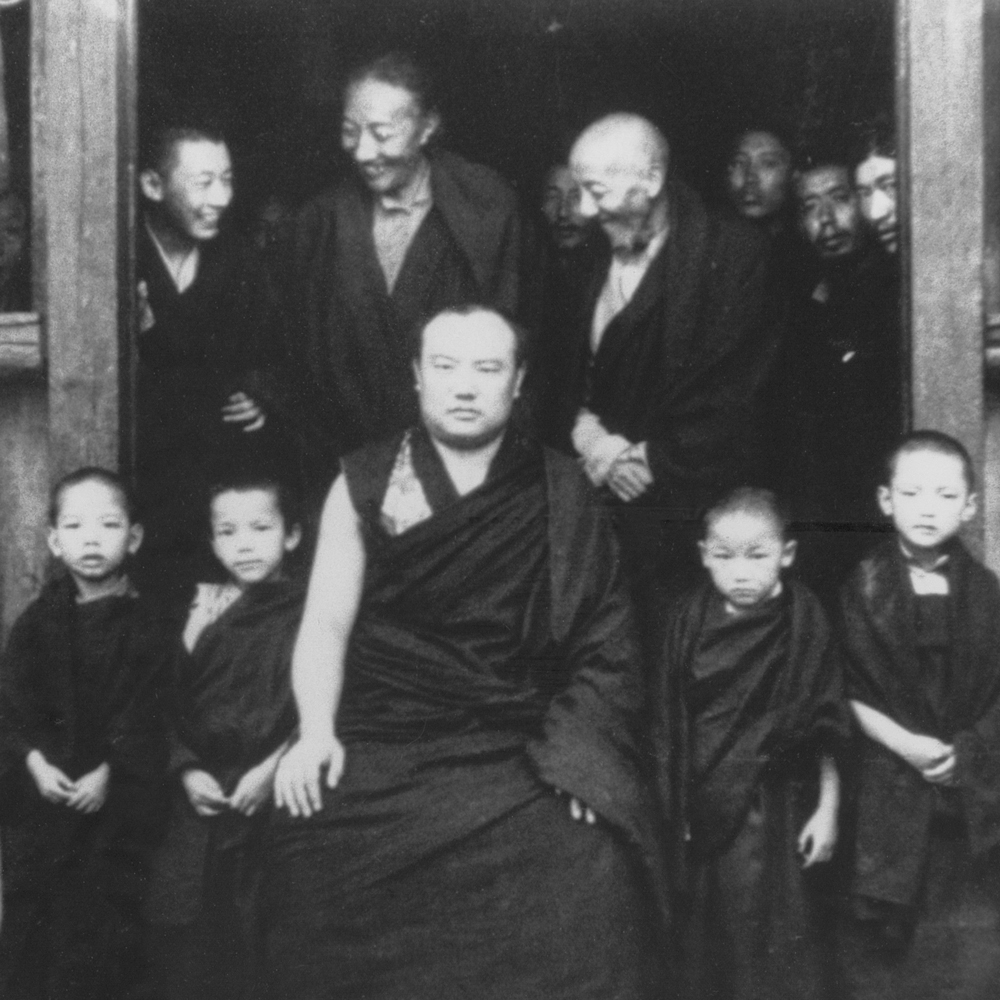 In 1967 Rinpoche moved to the Institute of Higher Tibetan Studies in Sarnath, and studied extensively for the next five years. He studied Buddhist history, Sanskrit, and Hindi, as well as Longchenpa's Finding Comfort and Ease (Ngalso Korsum), Seven Treasuries (Longchen Dzod Dun), Three Cycles of Liberation (Rangdrol Korsum), and Longchen Nyingthig with Khenchen Palden Sherab Rinpoche and Khenpo Tsondru.
When Rinpoche had completed these studies at the age of sixteen, he was sent by His Holiness Karmapa to study under the auspices of the Venerable Khenpo Yesha Chodar at Sanskrit University in Varanasi for three years. Rinpoche was also tutored by khenpos and geshes from all four traditions of Tibetan Buddhism during this time.
Rinpoche was subsequently put in charge of Zangdog Palri Monastery (the glorious copper colored mountain) in Eastern Bhutan and placed under the private tutelage of Dregung Khenpo Ngedon by His Holiness Karmapa to continue his studies of Sutra and Tantra. He ran this monastery for the next three years and began learning English during this time.
From 1977 to 1980, Rinpoche returned to Rumtek in Sikkim to fill the honored position of His Holiness' translator, where he dealt with many English-speaking Western visitors.
Move to Australia
Rinpoche moved to Melbourne, Australia in 1980 and commenced studies in comparative religion and philosophy at LaTrobe University. Rinpoche established E-Vam Institute in Melbourne in 1982 and went on to establish further Centers in Australia, America and New Zealand. For the next 25 years Rinpoche gave weekly teachings, intensive weekend courses, and retreats on classic Kagyu and Nyingma texts. During this time Rinpoche also taught internationally travelling extensively through America, Europe, and South East Asia and was appointed the Spiritual Director of Kamalashila Institute in Germany for five years in the 1980's.
Rinpoche established a retreat center, Maitripa Centre in Healesville, Australia in 1997 where he conducted two public retreats a year. Rinpoche founded E-Vam Buddhist Institute in the U.S in 2000, and Nyima Tashi Buddhist Centre in New Zealand 2004. In 2010 Rinpoche established a Buddhist college called Shogam Vidhalaya at E-Vam Institute in Australia and instructed students on a weekly basis.
Teachings & Activity
Throughout his life Rinpoche gave extensive teachings on many aspects of Buddhist psychology and philosophy, as well as comparative religion, and Buddhist and Western thought. He was an active writer and has many titles to his name. Titles include: the best selling Essence of Buddhism; Karma, What It Is, What It Isn't, and Why It Matters; The Practice of Lojong; Moonbeams of Mahamudra; and many more. Many of Rinpoche's books are translated in to a number of different languages including Chinese, French, German, Korean and Spanish. Rinpoche's writings are thought provoking, challenging, profound, and highly relevant to today's world and its many challenges.
Rinpoche was active in publishing during the last two decades of his life, beginning with his quarterly magazine Ordinary Mind which ran from 1997 to 2003. Further, Rinpoche founded his own publishing arm Shogam Publications in 2008 and released a number of books on Buddhist history, philosophy, and psychology and left instructions for the continuation of this vision. His vision for Shogam and list of titles can be found at www.shogam.com.
Rinpoche's ecumenical approach can be seen in his other activities aimed at bringing buddhadharma to the West. He established the biannual Buddhism and Psychotherapy Conference (1994 – 2003), and Tibet Here and Now Conference (2005), and the annual Buddhist Summer School (1984 to the present).
Parinirvana
Traleg Kyabgon Rinpoche IX passed into parinirvana on 24 July 2012, on Chokhor Duchen, the auspicious day of the Buddha's first teaching. Rinpoche stayed in meditation (thugdam) for weeks after his passing. A traditional cremation ceremony was conducted at Maitripa Centre and a stupa was erected on the center's grounds in Rinpoche's honor.
Biography source tralegrinpoche.org